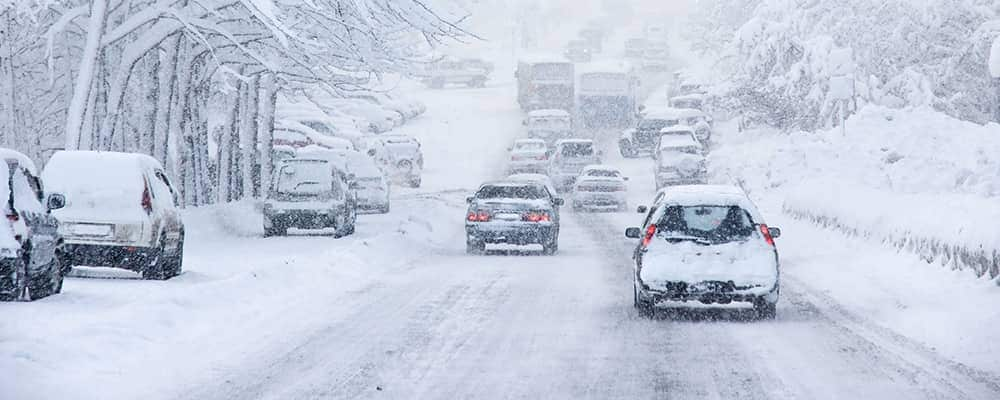 The bitter cold can wreak havoc on cars during those rough winters of Elgin and Schaumburg, but the right preparation can make all the difference this holiday season. Elgin CDJR is here to provide our very best cold weather car maintenance tips, so you can learn how to winterize your car like a pro. From must-have winter car accessories to crucial maintenance services, we'll detail everything you need to keep your car in great shape all season long.
Winter Car Accessories
Whether dealing with road salt or icy driveways, the right winter car accessories can transform your driving experience this season. Take a look at our favorite options:
Winter tires are a popular pick in the Chicago area, and for good reason. These tires contain deeper tread and more flexible materials, so your tires can easily grip the road through any condition.
A set of winter windshield wipers can improve your visibility during snowy and icy forecasts, while standard wipers may freeze up.
Sick of frozen locks and stuck doors in the winter? Just a little spritz of auto lubricant or greaser can prevent major headaches.
Winterize Car Service
After picking out a few accessories, don't forget our recommended winterize car services. Whether you tackle these tasks at home or stop by the dealership, these crucial maintenance services will ensure that you get the best performance possible out of your vehicle:
Fluids: Flush out old motor oil and windshield wiper fluid and replace them with cold-weather formulations that can handle the freezing temperatures. Check your antifreeze as well.
Battery: Take a look at your battery terminals to see if any corrosion has developed, and get your battery levels tested when you swing by the dealership.
Tires: Your traction is particularly important in the winter, so check your tread and air pressure every month to get the safest performance possible.
Get Your Car Winter-Ready at Elgin CDJR
Want to bring out the best in your car this holiday season? Schedule your service at Elgin CDJR, and we'll take care of everything! Still have questions? Feel free to contact us for more information.