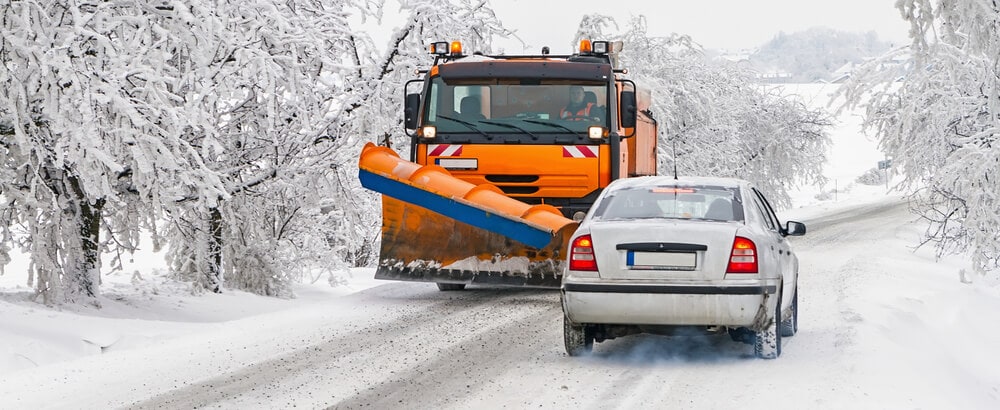 The winter season can be a great time of festivity and celebration, but holiday travel can be a drag. Icy roads and freezing temperatures are bad enough, but layers of road salt can cause a shocking amount of damage over the season. But learning how to protect your vehicle from road salt isn't as hard as you might think. The right maintenance can
keep your car in top condition
well into spring, so let's get started with our recommended car paint protection tips.
What Does Road Salt Do?
Road salt is a crucial safety tool for cities during the winter. It's cheap, it's easy to store, and it's incredibly effective in melting layers of snow and ice from the roads. Once the snow starts falling, you can expect to see a sprinkling of road salt throughout your neighborhood - so what's the problem? Road salt is extremely corrosive. When it sticks to your car, salts eat away at your paint and even the metal surfaces of the vehicle. This can create rust spots and holes in the exterior of your once flawless car! But it's easy to minimize damage.
How Do I Provide the Best Car Paint Protection?
You might wonder, "How do I protect my car?" Regular maintenance is the key. Here are our top tips to keep your car in the best shape possible:
Wash your car frequently. For the best results, try to go to the car wash every 10 days to avoid prolonged salt damage. Don't forget to wash off the underside of the vehicle, and be sure to open and close the doors and trunk several times to prevent the locks from sticking.
Before the snow starts to fall, consider waxing your car to provide extra protection. Not only will this give your car a barrier against road salts, but it will also bring out the beauty of your vehicle.
Be on the watch for paint chips. Salt can get into these vulnerable areas and speed up corrosion, so try to get paint chips fixed as soon as possible.
Learn More at Elgin CDJR
Contact us
at Elgin CDJR to learn more about
winter readiness
. We're located in Elgin, near Schaumburg, and we're always happy to chat about
winter driving safety
.