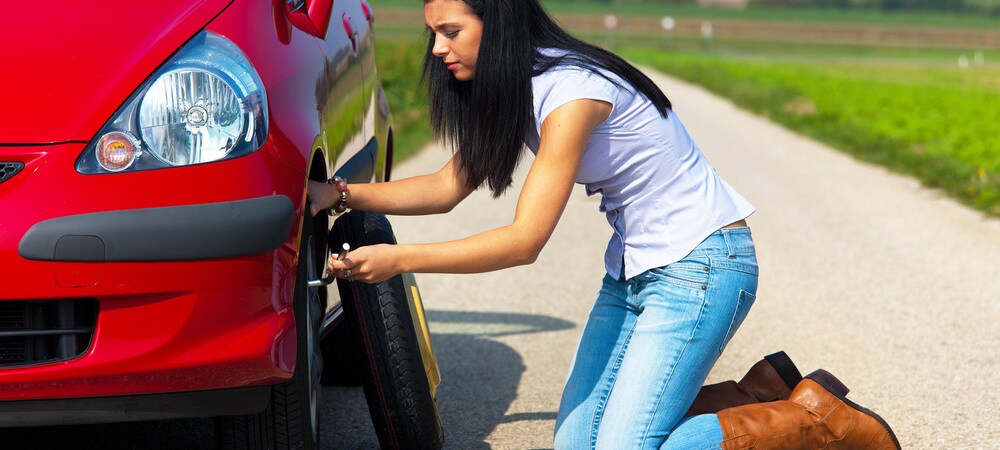 If you want to save yourself some stress on the road, then learning how to change a flat tire properly is an essential skill to remember. Many drivers are intimidated by the process of changing a flat tire, but with the right tools and technique, you might be surprised by how simple it can be. Take a look at our step-by-step guide on flat tire care, so you can stay prepared for any unexpected hassles during your travels.
Tools You Will Need
Most vehicles come with the supplies needed to change a flat tire, but when was the last time you double checked your inventory? Have you recently checked the air pressure on your spare tire? It's a good idea to locate your supplies in advance, so you know if you're missing a jack or wrench before you need it. Be on the lookout for:
Car owner's manual
Wrench
Jack
Inflated spare tire
Missing anything?
Order parts
as soon as possible. Have everything you need? Consider adding handy accessories like a flashlight, poncho, gloves, and wheel wedges to make the process just a little easier.
Steps for Changing a Flat Tire
If you need to fix your flat, pull off to a safe location like a parking lot. Then turn on your hazards, apply the parking brake, and you're ready to start.
Insert wheel wedges, bricks, large stones, or other objects behind the tires to prevent rolling.
Remove the hubcap and loosen the lug nuts.
Place the jack under the vehicle and raise it about six inches.
Unscrew the lug nuts and remove the tire. Set it aside.
Tighten the lug nuts partially by hand, then lower the vehicle until it barely rests on the ground. Tighten the lug nuts with the wrench.
Lower the vehicle completely to the ground, replace the hubcap, and put away your equipment.
Double check your air pressure in the spare tire, and make plans to visit the technician.
Learn More About Car Care with Elgin CJDR
Now that you know how to change a flat tire on a car, you're all set for the road ahead. Still have questions? Feel free to contact us, and be sure to check out our list of
10 maintenance things every driver should know
. We can help you find the
essential car tools
that you need to navigate Schaumburg and Elgin. For more, take a look at our favorite places and things to discover in
downtown Elgin
 and learn
how to change your car battery
with Elgin CDJR!